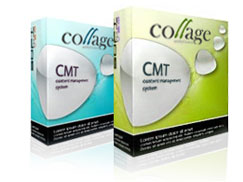 Just as technology and business are ever-evolving, Collage Solutions provides clients with tools that allow them to easily keep their site up-to-date. With the use of an SQL database, nearly all elements of the sites that we create can be entirely dynamic. This allows you too update your site's content, images, banners and navigation. And, most of these changes can be made quickly and easily using a tool that we develop that makes it as easy as updating a Word document, no HTML skills required
Our content management system (CMS) is especially useful for posting news and announcements, job postings and other time-sensitive information. You can make changes when you need them made – no more waiting for your 'web guy' to get to it.
Our CMS allows clients to have a current, accurate, interactive site that is searchable and updateable. These features can result in improved communications, considerable time and money savings, strengthened relationships with your stakeholders, and ultimately, increased revenues.
To help Collage Solutions determine the CMS tool that best meet your needs, we'll ask you some of the following questions:
How often will you need to update your website?
When you make one change, what other pages will it affect?
What's your current process for updating or making changes to your website?
Are you spending too much time training others to maintain your site?
How many staff do you have writing content for the site?
Do you have in-house IT support?
Will you be posting and archiving content on a regular basis?
Will you be using photos and graphics with your text?
What is your content approval process?
Do you changes need to be made in real time?
Will your site have a consistent look?
Do you require a database to track who's making changes to the site and when?
Collage Solutions strives to provide clients with personalized service and customized products. Included in your custom content management system are the following features:
Quick and Easy Content Editing
Also known as 'What You See is What You Get' or WYSISYG, our editing system allows anyone who can type their name into a Word document to make content edits. Gone are the days when your html literacy was a must for content updates.
Global Solutions
In the growing international marketplace, many businesses find that they must support a number of websites to allow for language differences. Our CMS tool allows for multiple languages, ending the need for more than one site.
The look
Collage Solutions creates web pages that can contain more than one content block. Our CMS tool ensures that your business' look is consistent throughout the pages of your site.
Automatic Navigation Updates
Your site's navigation menus are automatically updated by our CMS tool when you add new pages or content.
File Uploads
With our CMS, you'll be able to upload documents and images to your site with the ease of attaching a file to an email. Allow your visitors to download brochures, PDF's, forms and more.
One Last Look
With our preview function, you can perform the important double-check on your changes before they are published on your site.
Managing Users
Because a number of members of your team may have access to your CMS, we can arrange for different levels of permission and access for individual users.
Remote Updates
Using our web-based CMS, you'll be able to edit content on your site from wherever you may be – the other side of the world or a downtown café.
Secure Administration
Collage Solutions' CMS is secured by password access to the administration component of your website so that you can limit access to authorized users and restrict users to accessing certain pages.
Because it's web-based, Collage Solutions' content management interface is accessible anywhere by anyone with a password and doesn't require custom software. And, we provide industry-standard encryption that meets industry standards so you can trust that your data is secure.
Our standard CMS can also be upgraded with the following features:
Site search tool
Data updates such as news releases and career opportunities
Form Submissions
Uploads such as newsletters
Events calendar
Secure members-only areas
Editable Forms
Site maps